Domotex Asia 2019-Shanghai
3月26日(周二)—AM 9:00-PM 18:30
3月27日(周三)—AM 9:00-PM 18:30
3月28日(周四)—AM 9:00-PM 15:00
Shanghai New International Expro Center(SNIEC)
NO.2345 Longyang Road, Pudong Shanghai.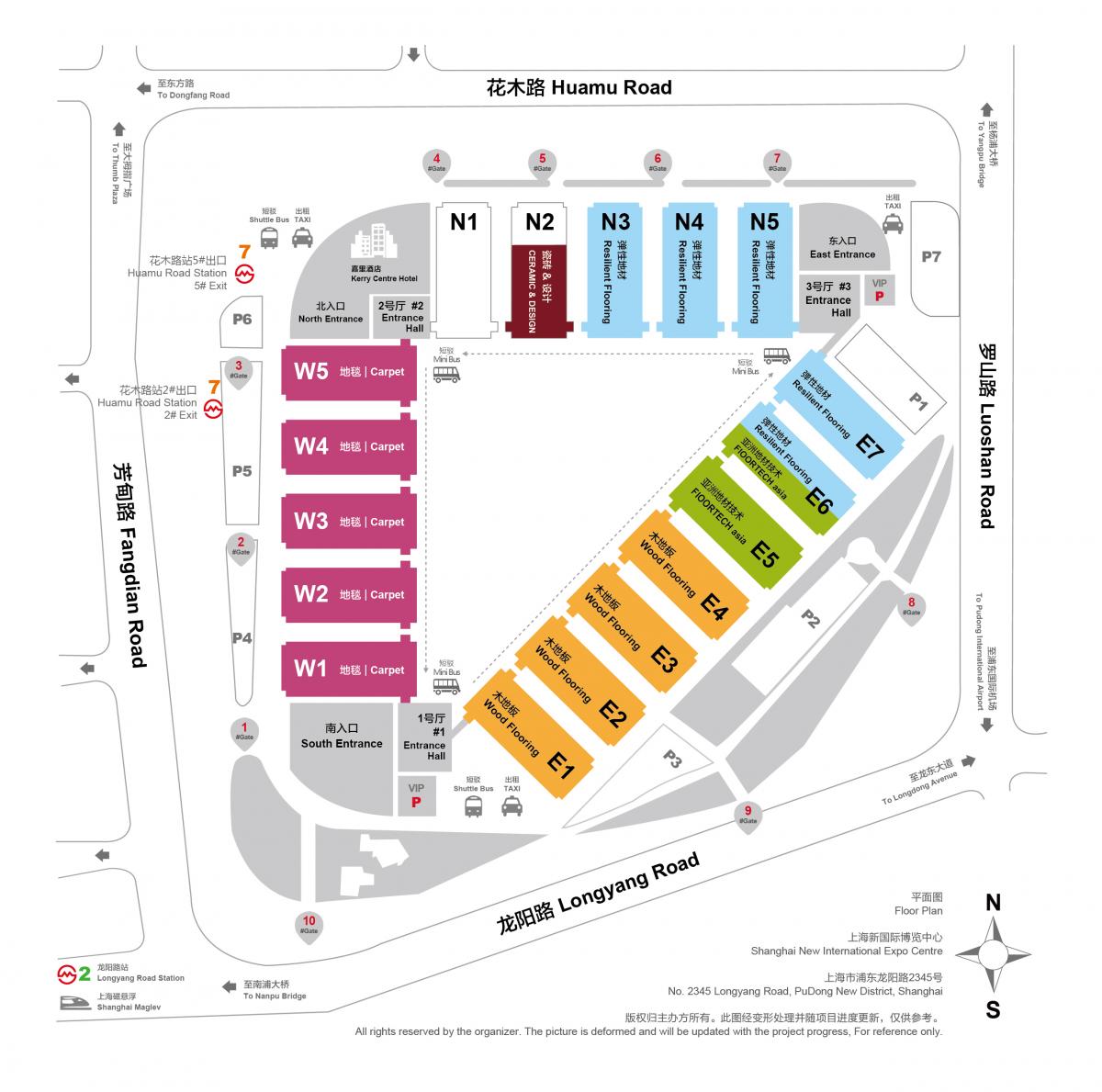 The 21st edition of DOMOTEX asia/CHINAFLOOR, is coming on March 26-28, 2019 at the Shanghai New International Expo Center, is expanding to cover 175,000 sqm in 15 halls. Including carpets and rugs, bamboo and laminated flooring with melamine overlay paper, resilient floorings with wear resistant overlay paper for sport, commercial, industrial and residential purposes.
Domotex Asia/Chinafloor, DACF) is the flagship in the asia-pacific region professional exhibition ground material.From building contractors, designers, traders, to the cross-industry chain of global buyers, industry leaders, China international exhibition of ground materials and paving technology is your connection to the network, understand the industry, show products, establish brand image, consolidate the position of the industry ideal business platform! Since its successful opening in 1999, China international exhibition of ground materials and pavement technology has gone through a brilliant 20 years, and China international exhibition of ground materials and pavement technology in 2018 has again achieved success, attracting 60,029 visitors from different countries and regions in the world.1,418 exhibitors from around the world came to Shanghai as scheduled.
According to authoritative statistics from McKinsey global institute, China's urban population will reach 926 million in 2025, an increase of 350 million.There will be 221 megacities of 1m people and 23 megacities of more than 3m.Forty billion square metres of land is needed, equivalent to 20-50, 000 30-storey skyscrapers, as many as ten New York City buildings.Located in the ground material industry with such a huge market share and bright prospects, China international ground material and pavement technology exhibition is to help you to achieve domestic and overseas market development, seek partners, lay the industry leadership of the choice!
The 21st session of exhibition will be March 26-28, 2019 in Shanghai new international expo center to meet with you again, for the present the exhibitors and spectators show ground material production and the application fields of the latest products and related technology, whether you aim to develop Asian market or other international and regional business in the world, China international exhibition on ground material and surfacing technology is not to be missed industry trade show. 
E1 will exhibit only international brands, such as Labeco, Boen, Arte Mundi, Swiss Krono, Classen and Faus. E2 will house domestic companies, including Starforest, Tubao, TECLIC, Artree, Jinqiao and Dalian Wood Flooring Pavilion. The largest part of E3 will be for floor heating and E4 – for bamboo flooring and Changzhou laminate flooring with wear resistant overlay pavilion. This way it will be a lot easier for visitors to survey the market and connect with the exhibitors and trends that matter to them. FLOORTECH asia will be displayed in E5, bringing ever new technologies and wood flooring printing machines to the show for the first time; while a part of E6 will house wood flooring supplies like cleaning and maintenance equipment, and applications and installation technology. According to Sara Babinski, design manager at Armstrong Flooring, 3D printing will play an important role in the abrasion resistant overlay flooring industry. To take that into account, DOMOTEX asia/CHINAFLOOR 2019 will present companies such as Hope Ceramics Machinery Equipment and ELECTRONICS FOR IMAGING. As for mechanical equipment for wood flooring, the world's leading brands like Homag, Hawk, Suzhou Hotjin Precision Machinery, AZUMI Mechanical Equipment and Wintersteiger AG have already secured their space. This year E6 will be a gateway to outdoor decking flooring and E7 will house sports flooring, as the industry grew extensively from last year. A big part of N3 and N5 will be occupied by the major international brands belongs to Luxury Vinyl floorings like SPC, WPC, LVT, such as KDF, Tarkett, Wineo, JaeYoung, US Floor, NOX, Adopen, GoaKe.  The resilient melamine overlay flooring section is expanding dramatically, that is why it will be spread out to halls E6, E7 and N3-N5, taking up 4.5 halls for the first time. DOMOTEX asia/CHINAFLOOR also confirmed that W5 will once again be the host hall for the Luxury Brands Carpet Show. Moreover, U-living, Hongjia, Babylon and some other premium household carpet companies will join the hall in 2019, making W5 a high-level design hall. Three country pavilions (Afghanistan, India, and Pakistan) have also confirmed their return to W5 for the 21st edition of the show with large stands